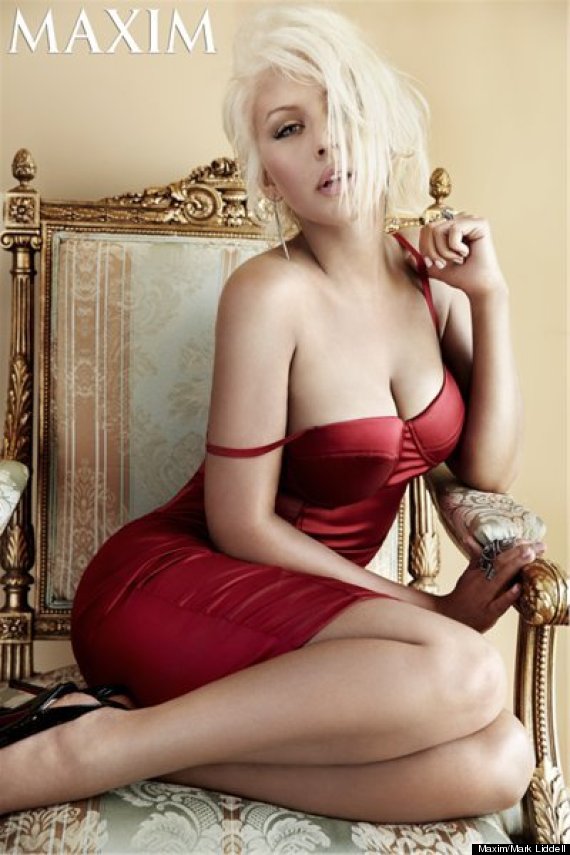 1. Celebrity Photos: September 2013 Brooke Burke looked stunning sitting on the Can-Am Spyder in Malibu, Calif., on Sept. 2. Celebrity Photos: August 2013 Ashley Tisdale and Christopher French hiked Runyon Canyon in Los Angeles, Calif., on Aug. 31. Celebrity Photos: September 2013 Maria Menounos was spotted at a Los Angeles drug store looking to extend her color with Jergens Natural Glow + Protect moisturizer on Sept. 2. Celebrity Photos: August 2013 Kourtney Kardashian made an appearance at 'Kardashian Khaos' at the Mirage hotel and casino in Las Vegas, Nev., on Aug. 31. Celebrity Photos: August 2013 Emmanuelle Chriqui rocked a yellow string bikini as she and boyfriend Adrian Bellani hit the beach in Miami, Fla., on Aug. 29.
Red hot: Christina Aguilera shows off her newly slimmed down figure in a scarlet satin corset dress as she poses in the new edition of Maxim magazine In an accompanying interview with the publication, Christina insists she can feel attractive in anything and doesn't need to get dressed up to feel sexy for her man Matthew Rutler. She said: 'I'm such a down-to-earth girl, I'm comfortable in just a jersey and boy's underwear. Trying too hard to be sexy is the worst thing you can do. Sexiness should be effortless.' She also reveals that the biggest turn off for her in a man is a guy who wants to woo her with a song. The Your Body singer – who split from her ex-husband, music marketing executive Jordan Bratman, in late 2010 – says nothing makes her feel more uncomfortable than being serenaded. Cover girl: Christina also gives a glimpse of her lingerie on the cover the American men's magazine Christina – who has a five-year-old son, Max, from her marriage to Jordan – explained: 'The quickest way for me to feel weird and run for the hills is if somebody sits down and serenades me with a guitar. It's not my thing.' Christina's significant weight loss became apparent at the start of this year. The singer shed several pounds thanks to the 1,600-calorie Fresh Diet premium meal-delivery plan, yoga, and regular sessions with trainer Tee Sorge. 'She did it all on her own,' an insider told Us Weekly in June. Incredible transformation: Christina is seen on the red carpet in July this year, left, and in November 2012, right 'A lot of people were on her about her weight and it depressed her. She went through a bad time because of the criticism.' A friend of Christina's revealed that she still 'wants to lose a bit more,' but 'she feels great.
Christina Aguilera Has Her Own Definition of Sexy
Back in December 2012, the singer told Ellen DeGeneres that she likes to be free especially when it comes to clothing. "The less clothing, the better. I'm just comfortable in my skin and my body." Growing up in the music biz, Christina has certainly experienced her fair share of criticism, something she admitted at a press panel for "The Voice" in January 2012, saying "I came out on the scene when I was 17 years old. You can never be too much of anything. You can never be too perfect, too thin, too curvy, too voluptuous, this, that. I've been on all sides of the spectrum. … [Every] female in this business at one time or another has had criticism." For more of Christina's sizzling Maxim photos, check out the video, and be sure to tune in to "omg! Insider" on TV tonight for all the latest in entertainment news. More Celebrity Features on Yahoo!: Please enter a valid email address To Please enter valid email addresses, separated by commas Maximum 200 character limit exceeded Don't see your Facebook contacts? Import them Please enter a message Christina Aguilera Has Her Own Definition of Sexy Christina Aguilera is looking more beautiful than ever on the cover of Maxim magazine's October issue! Showing off her oh-so-bodacious bod, the 32-year-old blonde revealed in an interview with the glossy that her approach to being sexy is actually very low key. "I'm such a down-to-earth girl.